Workshops & Instruction
Zoom & In-Person Classes 2023
Registration and description is through the Northshore Art League website.
Registration and description is through Chicago Botanic Garden's website.
---
In Person Workshops 2024
Lake County Art League - All day multi media workshop, April 20 & 21, 2024, Lake Villa, IL.
Please contact Mr. Jim Brooksher at 847-508-8258 for sign up and information.
---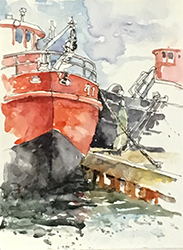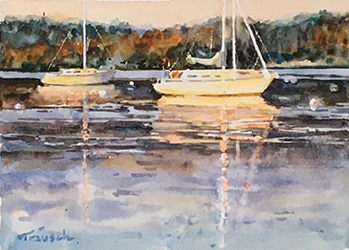 ---
En Plein Air 2023
There is no better way to learn about color, value and light than to paint from life 'en plein air'. This will also greatly benefit your larger studio paintings as well. You will learn to observe and make decisions in a timely manner. As we edit nature, we decide what to emphasize and what to leave out. Painting with fellow artists is an opportunity to grow, learn and be inspired by others. Some new locations have been added as well as keeping some trusted old friends. Please join us for some great painting at these select sites for the 2023 season.
All classes meet at the sites on Thursday from 9:30 am to 1:30 pm, rain or shine. Email or call me early in the morning, if in doubt, to see if we have a class. You may send one check for classes if you would like and the cost is $35 per class. Please remit to: Thomas Trausch, 2403 Mustang Trail, Woodstock, IL, 60098.
If you have wanted to paint "en plein air" or have a limited experience in doing so, we can go over supplies, along with specific directions to each location. Please call 815-245-0819 or email thomas@trauschfinearts.com with questions. Let's Paint!!!
---
Classes
Going forward, we will meet virtually on Zoom weekly ("Open Studio") as before. Those who have paid for carryover classes earlier can apply those classes now weekly. I have been teaching Zoom classes for 2 organizations for over 2 years now and am very comfortable with it. If you haven't taken a class on Zoom, please try it ... it is easy to log on and to follow the instructions. You simply need to install the free Zoom app on your phone, iPad, tablet or computer. The Zoom ID and passcodes will be sent to you a few days before class begins. The feedback I have gotten from zoom artists has been very positive. The weekly Open Studio class will meet from 9am to noon on Mondays. Five sessions are $175 (you don't have to take them consecutively) and you can join anytime. You can pay for the classes right here on the website, it is listed below. Add it to your cart and checkout, and you will be able to pay for your classes via credit card. I look forward to continuing our classes virtually. Of course, please don't hesitate to ask questions (815-245-0819 or thomas@trauschfinearts.com). I really am excited about us getting together again! Best to you all, Tom.
---
Workshops are frequently conducted either at our studio (Woodstock), regionally (Starved Rock State Park, Brown County, Indiana, for example), nationally (The Great Smoky Mountain National Park, Door County, etc.) and internationally (Ireland, Italy and France) ... all great places to travel to and to enjoy!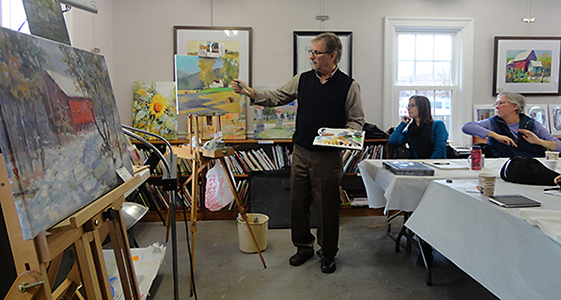 ---
Art Leagues and Groups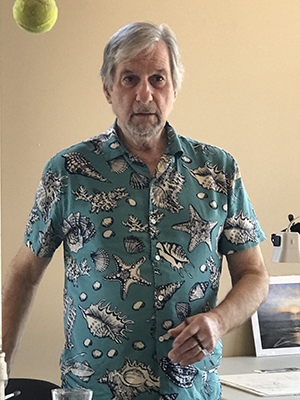 Demonstrations in either oils or watercolor are offered as a method to instruct, motivate and entertain. Many northern Illinois and Chicago area art organizations have enjoyed painting demonstrations, critiques and judging of their members' artwork for over 30 years.